Overview
Shanghai Clinical Research Center Phase I Clinical Research Unit (SCRC-PCRU) is one of the leading organizations involved in phase I clinical trials in China. SCRC-PCRU was previously known as Xuhui Central Hospital Phase I Clinical Research Unit. It has a long history of working with the pharmaceutical industry to offer special expertise in conducting early phase clinical studies under SFDA and FDA IND applications for innovative products.
Since 1999, the unit has been engaged in numerous phase I clinical trials, bioequivalence studies and clinical pharmacology studies. The unit operates in accordance with ICH-GCP and Chinese GCP. All staff at SCRC-PCRU are GCP trained, and its investigators are certified by Association of Clinical Research Professionals (ACRP), USA.
Clinical Trial Facility
SCRC-PCRU, a 56-bed unit is located within the confines of Xuhui Central Hospital. The hospital provides a newly renovated extension at Level 20, Block 1 with a floor area of 1,000 square meters. This is in addition to the original 1500-square-meter space, at Level 14, Block 2, that is devoted to conducting Phase I studies, ensuring the highest quality medical care and safety standards.
This facility was developed in consultation with some of the top R&D centers of pharmaceutical companies in China.
In-house equipment and facilities
2500 square meters, 56 bed hospital ward environment
A 12-bed intensive observation unit (IOU), Emergency Room, EMG room, ECG Room, Blood Drawing Room, Laboratory Room, Drug Storage Room and Entertainment Area etc.
24hr access to code teams, Medical Emergency Teams (MET) comprising of an anesthesiologist, cardiologist, pulmonologist, and an ICU physician, and all of the support, diagnostic, therapeutic, administrative and safety elements of the Xuhui District Hospital
Seamless integration of trial support services, including data management, electronic data capture, and easy access to diagnostic services including CT, MRI, and PET
ALARIS pumps for intravenous infusion studies
Ambulatory cardiac monitoring units and Cardiac Telemetry System
Centrifuge and fume hood for the handling and preparation of study samples
Three adjustable alarmed freezers (-80℃, -30℃ and 4℃)
Secure medication storage room and temperature controlled, alarmed fridge
Synchronized clocks
Secure, full kitchen facilities to prepare study meals, with locking fridge
Internet access for patients
Washroom, showers, lockers for study participants
Standard Operating Procedures
Highly cost-competitive rates and low overhead
Clinical Trial Specialties
• Pharmacokinetics study
• Drug safety and tolerance study
• Drug effect and interactions
• Pharmacodynamics study
• Ethnic sensitivity testing
• Organ dysfunctions
• Pharmacogenetics study
• Age and gender effects
• Prolonged QTc
• Bioequivalence study
• Food effect
Central Laboratory
In compliance with CAP and ISO15189, the Central Laboratory offers comprehensive and flexible laboratory services, including drug pharmacokinectics, pharmacogenomics, clinical laboratory testing services, drug evaluation services, laboratory technology validation services and biomarker studies.
With a floor area of 1500 square meters, the Central Lab is accommodated with the state-of-the-art technologies and equipment, including GC/MS, Flow Cytometry, MassARRAY, LC/MS/MS, Luminex, ICP/MS, etc. It can provide LC/MS analysis service on drug and metabolics in biological samples by following FDA-GLP compliance.
How Do I Get There?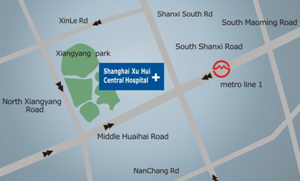 Phase I Clinical Research Unit
966 Middle Huai Hai Road, Shanghai 200031, China